Practical Significance of the Vision and the Dream - Individual Personal and Collective General
I know about environmental challenges since the seventies of the last century. That they would escalate as rapidly as it stands now, however, I did not expect. Examining the vision and the dream, and by extension prehistory, has changed my consciousness and look at the world.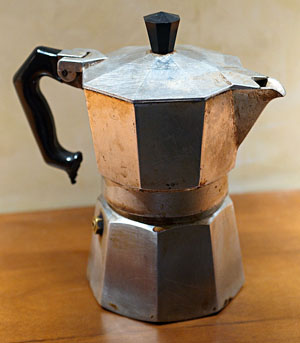 An expression of this is, that when I set my octagonal Italian Mocha Express on the flame of my stove in my kitchen, I also think of the earthquakes in Groningen, which are a consequence of collective, general gas production and my individual, personal consumption. Someone could object, that my mocha surely will shake nobody awake in Groningen. Yet such objection is merely a question of horizon.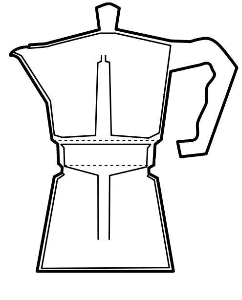 From my mocha alone, Groningen will certainly not tremble. But I'm just one of millions who consumes a small amount of gas. However, the little bits all together make the big difference. Hence, rightly ecologists today say, that it is now necessary to think in far wider contexts than one was or still is used to think, to become able to act individually and locally responsibly. I still put my mocha on, but let the flame burn no longer than necessary, and I save energy, water and so on, wherever possible. To buy CO2 - rights seems no real solution to me, but a cosmetic distraction of some wealthy. Finally it is about much more than only about natural gas and CO2-values.
Today we become increasingly aware of a global ecological crisis. We are beginning to see that the changes we add to our global environment, if only because we are so many, could be disastrous for the human species. To understand the significance of these changes for life on earth and to consciously and responsibly deal with them, by also understanding the human and earthly past, proves indispensable. Archaeology and other sciences bring the human and animal past increasingly to light, and what ecological changes meant and mean for mass extinction and survival of life on Earth.
Geological disciplines examine the evolution of the earth, and physics attempt to look back to the beginning of the universe as we perceive it today. Many people find these researches superfluous and without meaning for everyday life. I think however that this is a matter of horizon of vision. For quarterly results of an industry the findings of these science disciplines seem useless. For the survival of mankind as a species and for many other species, they will however prove meaningful. Sciences can contribute knowledge and understanding, but economics and politics, individual and collective can answer to them or not, according to the ethics they hold on to. What answer they can give and will also depend on the horizon of meaning and time in which scientific findings will be evaluated.
Already before in the history of the Earth species got extinct, because with no more than their metabolism they changed their atmosphere. What one individual does matters little. However, what all individuals do together makes the difference. Because we are with so many now, the individual will have to see himself and what he does in a global context. To say Today, 'Gee, don't be so complicated, just keep it cosy and fun,' seems to be the best guarantee to ensure that it will remain cosy nor fun; certainly not for our children, grandchildren and great-grandchildren.
About the Earth as a planet, I need not worry. It has already survived a lot. If the human species survives, which consists of countless individuals who experienced an individual fate today, seems to me less sure. To the future of the man seems to me today to masters, knowledge and understanding of the human, earthly and cosmic past become indispensable. And although I am just one of millions in the telephone directory, my seemingly insignificant leaving end doing counts along ...