Back to kalab.nl/en
"Hush!"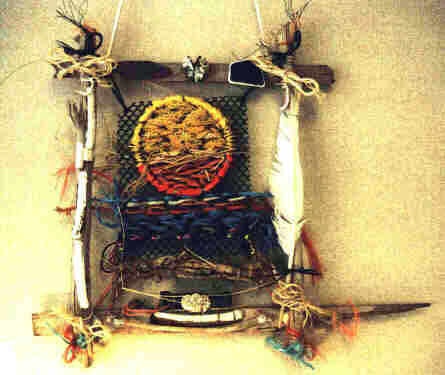 Title
Inspiration
Style
"Mirror" / "Sun"
"... to nullify what 'is' ..."
"zero budget beach"
"Hush!"
spoke the Still Small Voice 1)
"Leave your water, color, brush
Empty now go to the Shore
And what I give do not abhor."
Wood I receive
soft from Salty Water
and subdued strings
and tapes
in many colors and dimensions
entangled and confused
sticky dirty oily
plastic grid
knife's handle 
its sharp danger gone
remnant shard of a tile
seaweed shells and feathers
a stick inhabited
symmetrically by barnacles
All these am I
to collect and bring together
"I chose
The lowly things and
The despised things and
The things that are not
To nullify
The things that are,
So that no-one
May boast before me." 2)
Alone am I
to spread out
flotsam and jetsam
before me to see 
what I would do with it
People walk by
I feel shame
What do they think?
Am I nuts?
Oily grease
blackens my hands
makes them smarmy smelly
and me feeling strange
"I know no shame
To be with you
Nor ill about
The smarmy hands
I get from you."
Worthless
forgotten abandoned wood
I bind together
Wordless to a frame
black plastic grid
to carry
the Sun broken seal ring
gives its circle to the Sun
cast away
colored cello tape
yellow orange
burns her corona
yellow net fills the Sun
as does golden grass
some blue sets her
above the Sea
Worthless
nothing are all these parts
though beautifull too
who else can feel it ?
whence all this trash?
what served it once?
nothing got gleaned chosen
joined together
nothing became something
new to question
what wants and claims
to be something
"What do you see
In the Mirror
from the Sea?"
Feathers wood strings shells
confusion embarrassment
anger indignation and yet
Joy Fire Sun Spirit
Fringed untamable strings
evoke disgust
Primitive ambiguous
uncultivated appears
this conglomerate of nothing
things vomited 
spit out by the Sea
If that
should be something 
what than am I?
What for my
education experience
position status
name income
devotion sacrifice?
"Nothing
soothes me,
the Still Small Voice."
"Hush!"
In lasting gratefulness
Kihew Iskwew's "Genwar"
Dance Me to Your Light
See Some of My Art Work
Meet Some of My Family
On Wings as Eagles and Angels
Obituary
Notes
In the summer of 1999 I spent my summer holidays once more at the North-Sea in Sint Maartenszee in North-Holland. Instead of painting as usual, I followed an inner impulse and went to the shore to pick up flotsam and jetsam. I collected it in a box. After a few days, I set down in front of my tent and meditated about the worthless things which the sea had vomited to the shore and that I had collected. As by itself, a mandala took shape. Working with the dirty, greasy, salty, sticky materials reminded me of New Testament spirituality:
"He chose the lowly things of this world and the despised things - and the things that are not - to nullify the things that are, so that no one may boast before him."
1 Corinthians 1:28 - 29 NIV
In my own experience and in the affective, usually loathing reactions of others, this little artwork psychologically and spiritually worked as a mirror to the viewer. Silently it reflected and questioned societal, capitalist and materialist values. The 'poem' reflects my experience of the Still Small Voice within.
"Genwar"
Amsterdam, 28th October, 2015
1) From the "Trimorphic Protennoia":
"I am the voice speaking softly.
I exist from the first.
I dwell within the silence,
Within the immeasurable Silence.
I descended to the midst of the underworld
And I shone down upon the darkness.
It is I who poured forth the waters.
In am the one hidden within Radiant Waters…
I am the image of the invisible spirit.
I am the womb that gives shape to all
By giving Birth to the Light that shines in splendor."
Professor Gilles Quispel in a pamphlet he gave to Anne Baring, called The Birth of a Child. From: Anne Baring, The Dream of the Cosmos, A Quest for The Soul, Archive Publishing, Dorset England 2013, pgg 54f
2) 1 Cor. 1:28 - 29 NIV