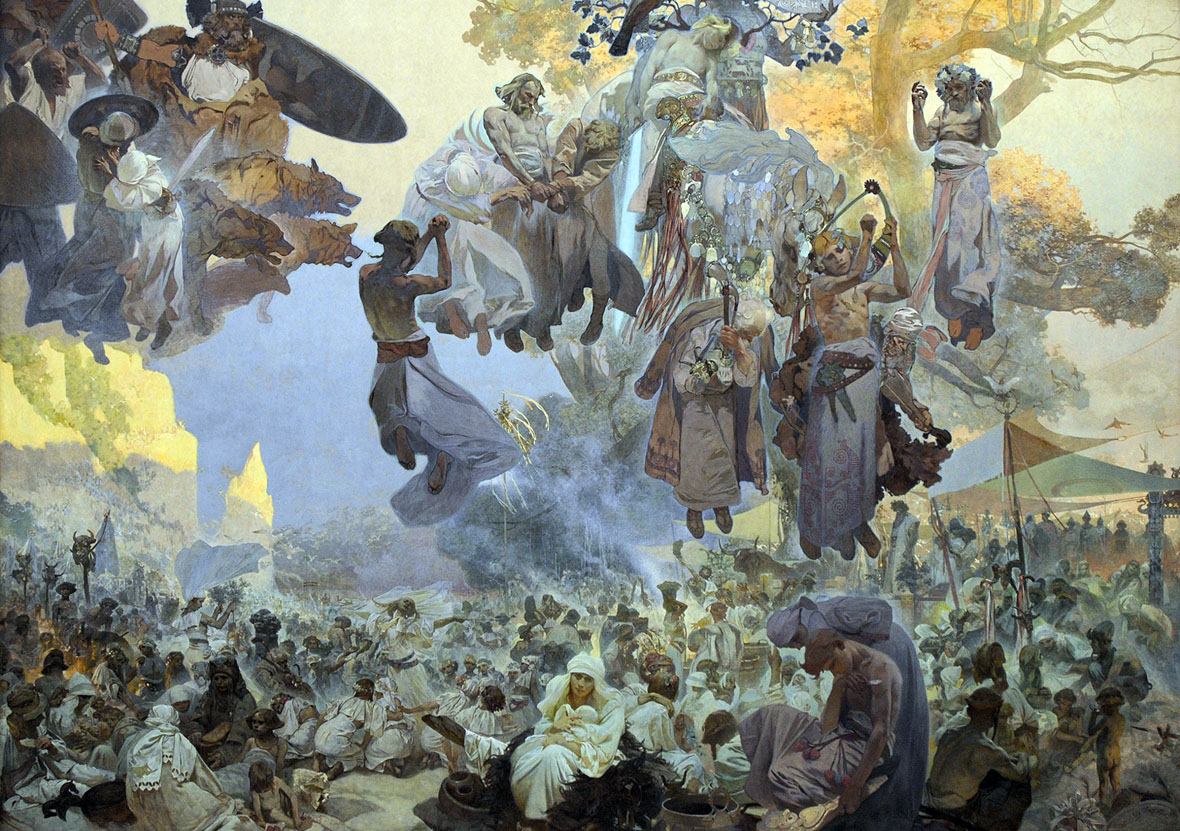 The Celebration of Svantovit on Rügen
Mucha conceived the theme of the pagan festival as a clash between carefree revelry and the ominousness of fate.
He drew inspiration from the history of the Baltic Slavs. He was intrigued by their cult of Svantovit, followed at Arkona in Rügen, a former bastion of Slav paganism that long resisted conversion to Christianity (it was quashed in 1168 by the Christian Danish King Valdemar, who had the statue and temple of Svantovit destroyed). Every year, after the harvest, a great cult festival was organized at the cape of Arkona, where prayers, chants, and bloody sacrifices took place, after which the priest communicated with the gods and made prophecies. This was followed by an exuberant ritual feast, games, and dancing.
Mucha's rendering depicts the early evening festivities under an open sky as a backdrop and counterpoint to his mythologized scene of the future suppression of the Slavs by the Germanic tribes, which is distinguished in scale and hue from the earthly events.
Mucha transferred the image of the four-headed god Svantovit - whose attributes included a horn full of wine for making prophecies - from the interior of the temple to the crown of a giant oak. The sky is blocked by the shadow of the Germanic god Thor and his wolves bringing subjugation and scourge to Slavic civilization in the Baltic. The last Slavic warrior dies on Svantovit's white horse and Svantovit himself takes from the warrior's hand his sacred sword in order to defend the Slavs. The figures of the musicians and a woodcutter augur the rebirth of the Slavic peoples in art.