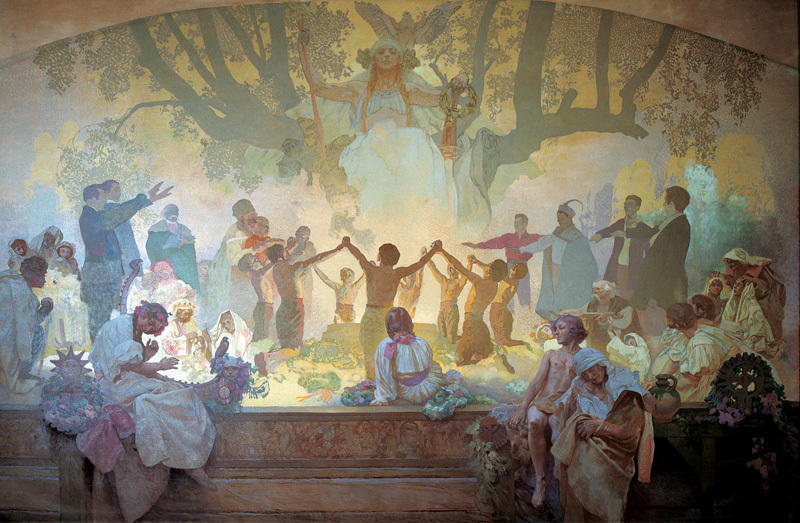 The Oath of the Youth Under the Slavic Linden Tree
This scene is devoted to the Slavic Revival and conveys the essence of the myth-making efforts of the 19th century.
It refreshes the legacy of the poet Ján Kollár, whose collection of poems titled The Daughter of Sláva from 1824 was one of Mucha's sources of reflection on the role of the Slavs in the history of humanity. In The Daughter of Sláva Kollar used two predominant motifs: the Linden-tree as the tree of the Slavs and Slávia as their goddess.
Mucha linked these two notions. The composition visualizes the imagined act of the formation of a Slavic homeland. He highlighted the need for unity. Beneath the Linden tree a circle of young men are kneeling around an illuminated centre point, and behind them Sokol members and men in modern everyday clothing have their hands raised as if taking an oath. Their faces are unfinished, so it is impossible to identify them with any real figures. The ceremony is taking place somewhere outside time, in some Arcadian place strewn with wreaths of flowers.
Although Slávia is of female gender, women are not included in the oath-taking, they are only observing. In the foreground to this whole scene there is a small wall with a young girl sitting on it. She represents the allegory of music, which Mucha then used as his principal motif in the poster he created for the Slav Epic. Cult objects, such as the swastika-symbol, which has been interpreted by some to represent the movement of the sun, are references to ancient Slav culture.