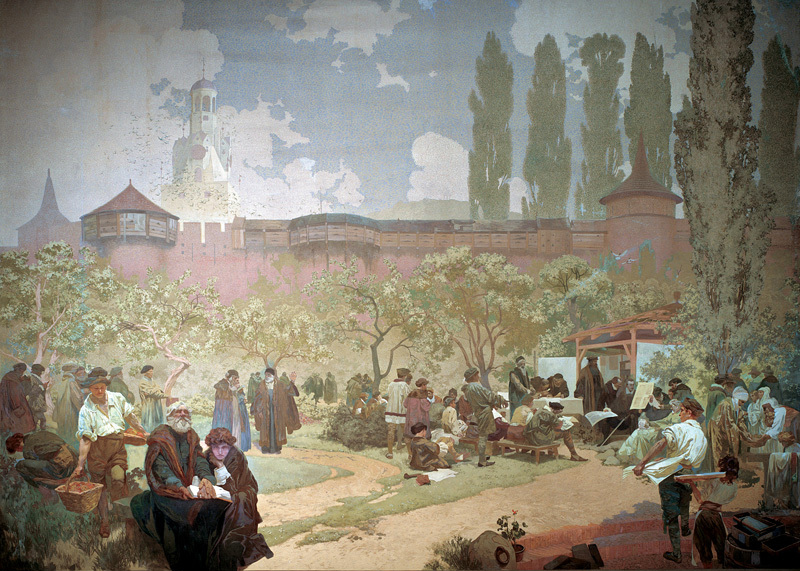 The Brethren School at Ivančice
Mucha depicted the high point in the Union of Brethren in a work dedicated to the important Brethren School in Ivančice, famous for the work of its members like Jan Blahoslav, Jan Aeneas, and Jan Amos Komenský.
Mucha had a personal relationship to this theme: he was born in Ivančice, and a favourite motif of his was the tower of the church in Ivančice with a flock of birds circling it. In the Slav Epic, he linked his native place to the printing of the Bible of Kralice, which in reality took place in Kralice, where for security reasons the secret Brethren's press was moved in 1578.
He created a wide panoramic scene set out front of the town walls in the sunlit autumn garden of the former Brethren School. The theme of the image is the visit of Jan the Elder of Žerotin, one of the Union's leaders, who however is assigned no prominent position in the painting. He is seated near the shelter that houses the printing press and like the others he is browsing through the printed pages of the bible. The pupils are sitting in a semi-circle; scholars are walking through the garden; and in the foreground a blind old man is explaining the bible to a young man. The arrangement of the figures corresponded to the idea of the equality of all social strata.
Mucha interpreted the printing of the bible as a philosophical disputation and the Brethren School in Ivančice in his rendering is a loose paraphrasing of Raphael's The School of Athens. Highlighting the significance of the book and the script is a theme that runs through the Slav Epic.