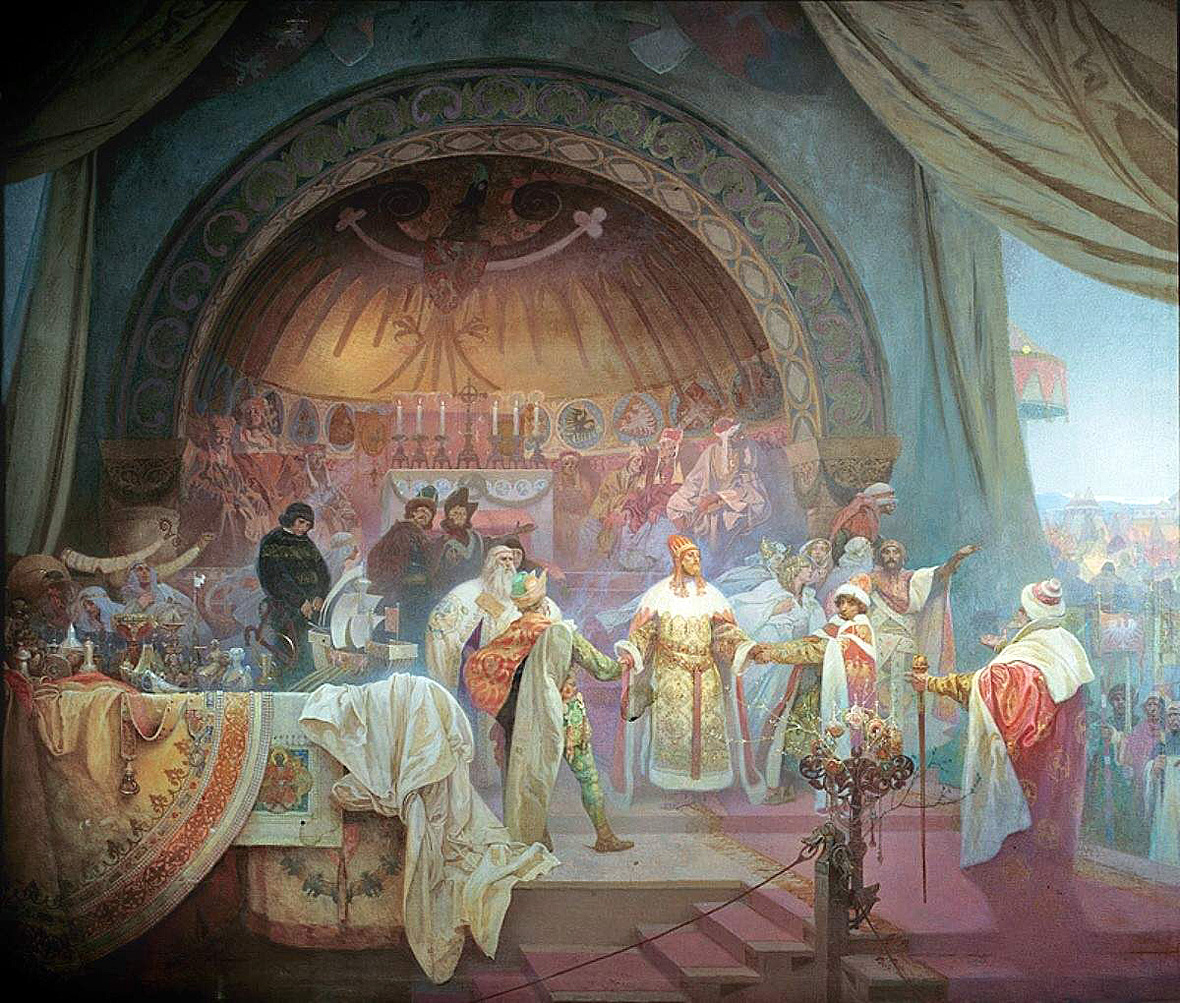 King Ottokar II of Bohemia
Mucha portrayed King Ottokar II of Bohemia, known as the 'Iron and Gold King', during the period of his greatest fame, when after his victory in the Battle of Kressenbrunn he strengthened his power and through marriage arrangements managed to secure peaceful relations with the Hungarian King Bela IV.
First, on 25 October 1261, in Bratislava he married Kunigunda, the beautiful granddaughter of the Hungarian King and daughter of the Russian prince Rostislav, then, on 5 October 1264, he held a grand wedding for his niece Kunigunda of Brandenburg, whom he arranged to marry the Hungarian king's younger son, also named Bela. This grand celebration, which was talked of across Europe, was held outdoors on the bank of the Danube River, where fancy tents were set up to house the ceremonies and banquet. Many royal figures from around Europe attended - Ottokar II secured participation from the west, Bela IV was accompanied by royalty from the east.
Of these Mucha depicted the king Daniel of Galicia, the Serbian King Stefan Uroš and his sons Dragutin and Milutin, the dukes of Croatia, Bosnia, Transylvania, and others. While the original significance of the event was to seal an alliance between Bohemia and Hungary, in the Slav Epic Mucha altered history and conceived the gathering of rulers as the formation of a 'union of Slavic dynasts'. This shift was intended to reinforce the idea of 'Slavic solidarity', which is artificially inserted into many of the historical scenes in the epic.