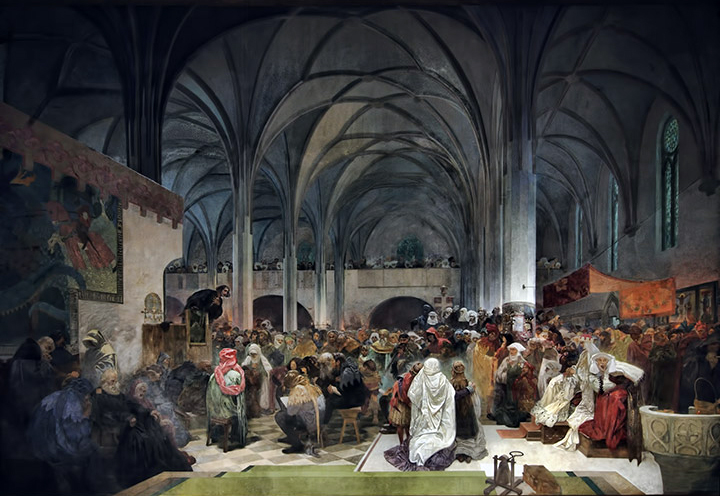 Master Jan Hus Preaching at the Bethlehem Chapel
Mucha opens the epic scene depicting Master Jan Hus at Bethlehem Chapel in 1412 - which forms the centre painting in the triptych 'The Magic of Words'.
With a view from the altar steps facing the choir, the aim being to present a wide panorama of the representatives of various social strata who have gathered in the spacious interior and stand transfixed by Hus's teaching. Except for part of the peripheral wall, Bethlehem Chapel was torn down at the end of the 18th century; Mucha's rendering of the high Gothic interior, with a reticulated vault on three rows of octagonal columns, differs from the original hall with the wood ceiling of Hus's era (which Fragner referenced in his reconstruction in 1949 - 1954) and represents the chapel's appearance after undergoing an expensive renovation before the middle of the 16th century, which was recorded in plans and descriptions from the baroque period.
The conceptual focal point is the four-sided pulpit, from which Jan Hus is preaching and leaning out in excitement towards his listeners. In a circle in front of him his students are engrossed in recording his ideas. Another listener is the founder of Bethlehem Chapel, the tradesman Jan (Wenceslas, ed.) Kříž - an old man seated in the front left. Jan Žižka is standing behind him by the wall with a fresco of St George and the Dragon. On the opposite side, Queen Sofia, the wife of Wenceslaus IV, is emotionally following Hus's sermon from her seat beneath the red baldachin, surrounded by her ladies in waiting. One of them, who is among the most striking figures in the canvas, is looking inquisitively back at the spying priest who would later testify against Hus.