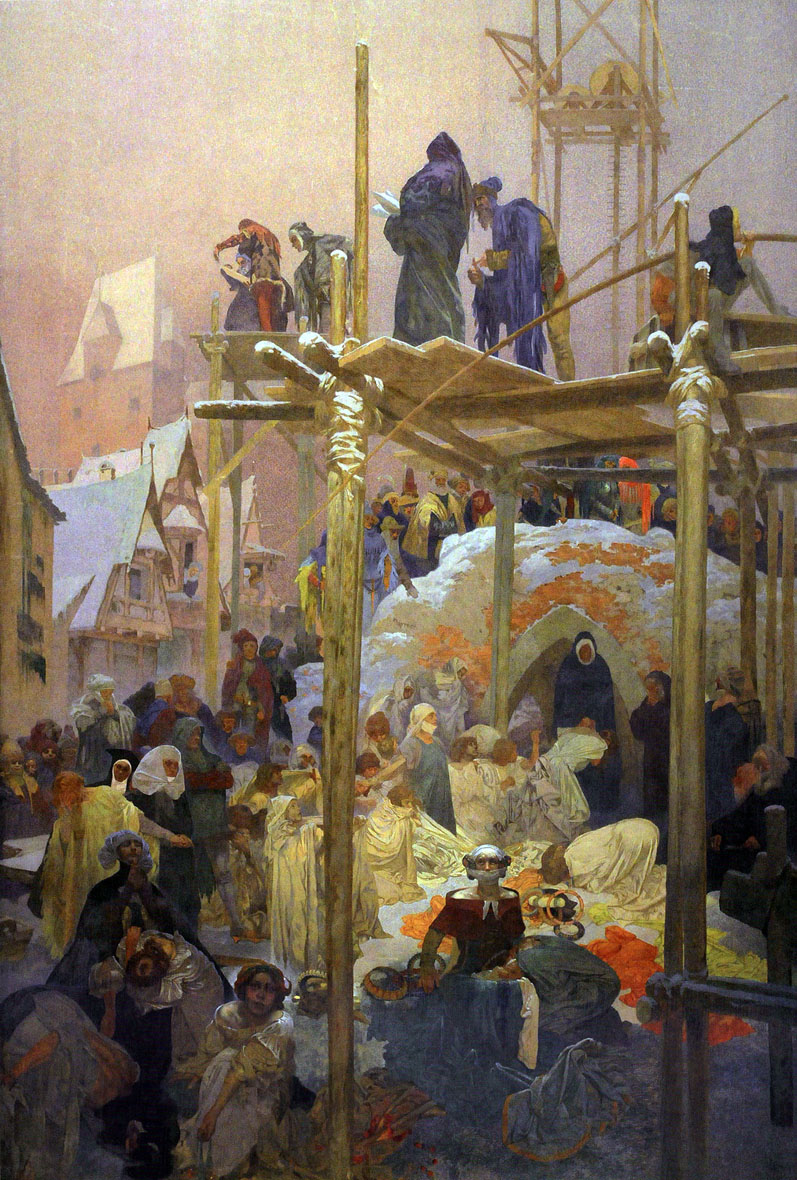 Jan Milíč of Kroměříž
Mucha incorporated a monumental triptych, 'The Magic of Words', into the overall composition of the Slav Epic. It focuses on the Bohemian and Moravian reformist preachers of the 14th and 15th centuries.
The centre, horizontal painting is dedicated to Jan Hus, the left vertical panel painting depicts his predecessor Jan Milíč of Kroměříž, and the right panel is assigned to Hus's successor Václav Koranda. Mucha decided to highlight a famous deed performed by the earliest of this trio, the phenomenal preacher and ascetic Jan Milíč of Kroměříž: in 1372, by the sheer force of his eloquence, Milíč managed to persuade an alleged three hundred prostitutes in Prague to repent, and on the site of a former brothel called 'Benátky' (Venice), located in Konviktská Street, with the help of Charles IV he built his 'Jerusalem' (a benevolent institution), the Chapel of Saint Mary Magdalene, and a shelter for repentant sinners.
Mucha assigned Milíč a relatively less prominent place in the second plane of the painting and tried to capture the effect of his words on the prostitutes, who have cast off their colourful garments and jewels and changed into white clothing symbolizing purity. As a sign of repentance they have gathered at the site of the demolished house of ill-repute, where a new structure is being built. In the layout of this rich figural scene, which is the only one in the Slav Epic in which women predominate, Mucha employed his experience with Secessionist art, both in his spirally approach to the composition and in the stylized postures of the penitent women. Scaffolding rises up over the place of the 'battle with the flesh', and on it stands an architect in the process of designing Milíč's 'Jerusalem'.