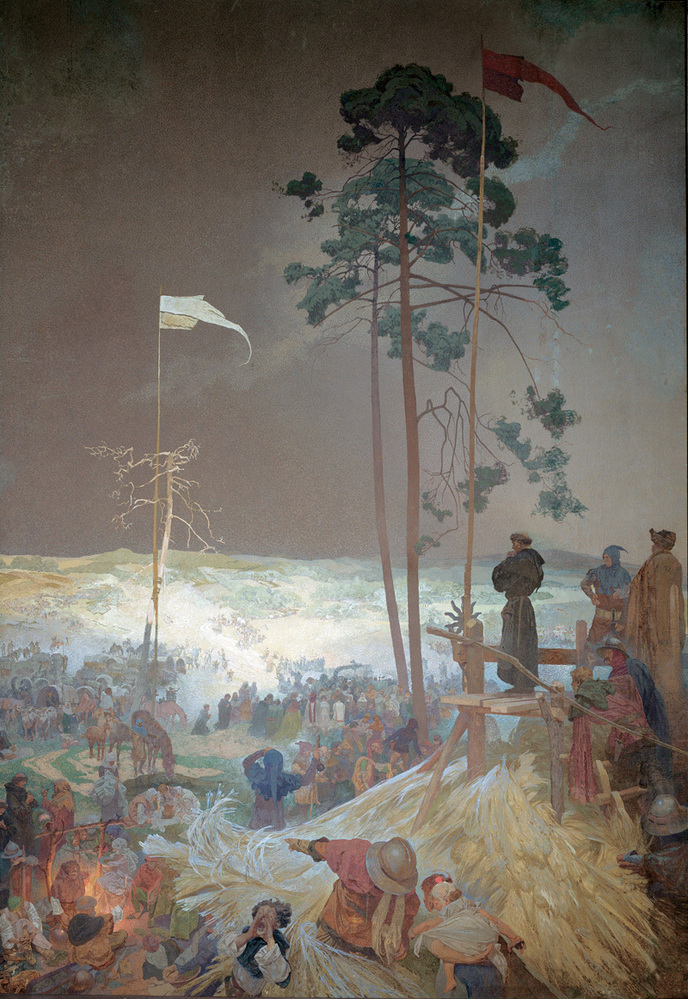 The Gathering at Křížky
Mucha devoted the last panel in 'The Magic of Words' to the events regarded as leading up to the Hussite movement against the Catholic Church.
There emerged a new phenomenon of chiliastic pilgrimages to the mountains accompanied by preaching and the administration of the Eucharist 'in both kinds', something that was banned in the towns. The meetings were peaceful up until the one that took place at Křížky near Benešov on 30 September 1419, when the mood shifted following the appearance of one of the initiators of the gathering, Václav Koranda, a radical priest from Pilsen.
In Mucha's painting, the gathering symbolically takes place at dawn. People from the town of Pilsen, who had arrived at the chosen spot a day earlier, have set up camp, and crowds of people from Prague are wandering in across the powerfully open landscape, illuminated in the morning sunshine. Václav Koranda is standing, poised in prayer, on the roof of a hut that has been turned into a provisional pulpit, and in the company of several yeomen he watches as pilgrims from every direction approach the spot, which is marked with a red and white flag. Koranda's statement that the faithful should carry swords not walking sticks has been interpreted as the impetus for the Hussite revolution.