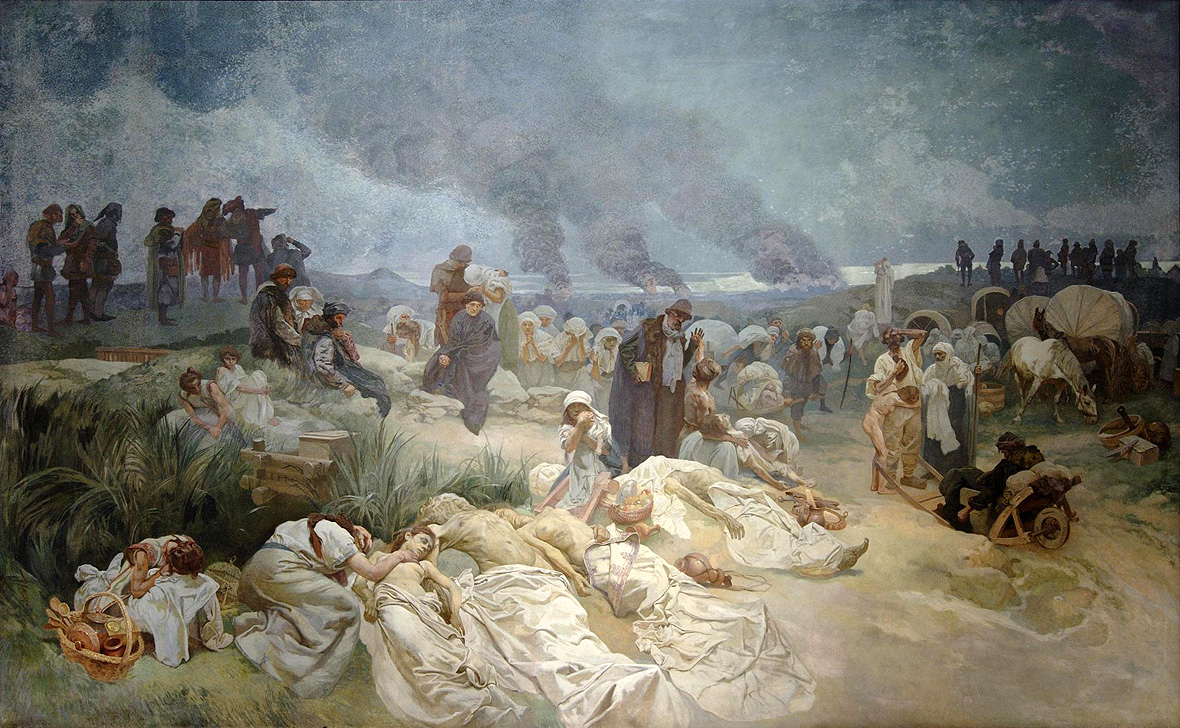 Petr Chelčický at Vodňany
One area of thought that Mucha devoted room to in the Slav Epic was the teachings of the Unity of the Brethren, whose principles he identified with.
The Unity is touched on in three paintings: first in the Unity's precursor and ideological father Petr Chelčický, then through the development of the Brethren School in Ivančice, and then with Jan Amos Komenský. In the case of Chelčický, Mucha was mainly intrigued by the radical political thinker's uncompromising pacifism and principled rejection of any kind of physical conflict.
He expressed this in a scene describing a historical event from the time of the Hussite Wars. In 1420, the Tabor army invaded, plundered, and burned down the town of Vodňany. The terrified population fled to nearby Chelčice, the village from which Petr Chelčický got his name. They stopped at the dike of a pond and brought the wounded and dead there. They met up with Petr Chelčický, whom Mucha depicted in the midst of a characteristic act: catching hold of another man's hand raised menacingly in a gesture of bloody revenge. He wants to dissuade him from seeking vengeance and urges the people of Vodňany not to meet evil with more evil. This does not mean that he did not frown on the Táborites' pillaging. In his writings he came out against the armed assertion of God's law and in his notes likened Jan Žižka to the devil.