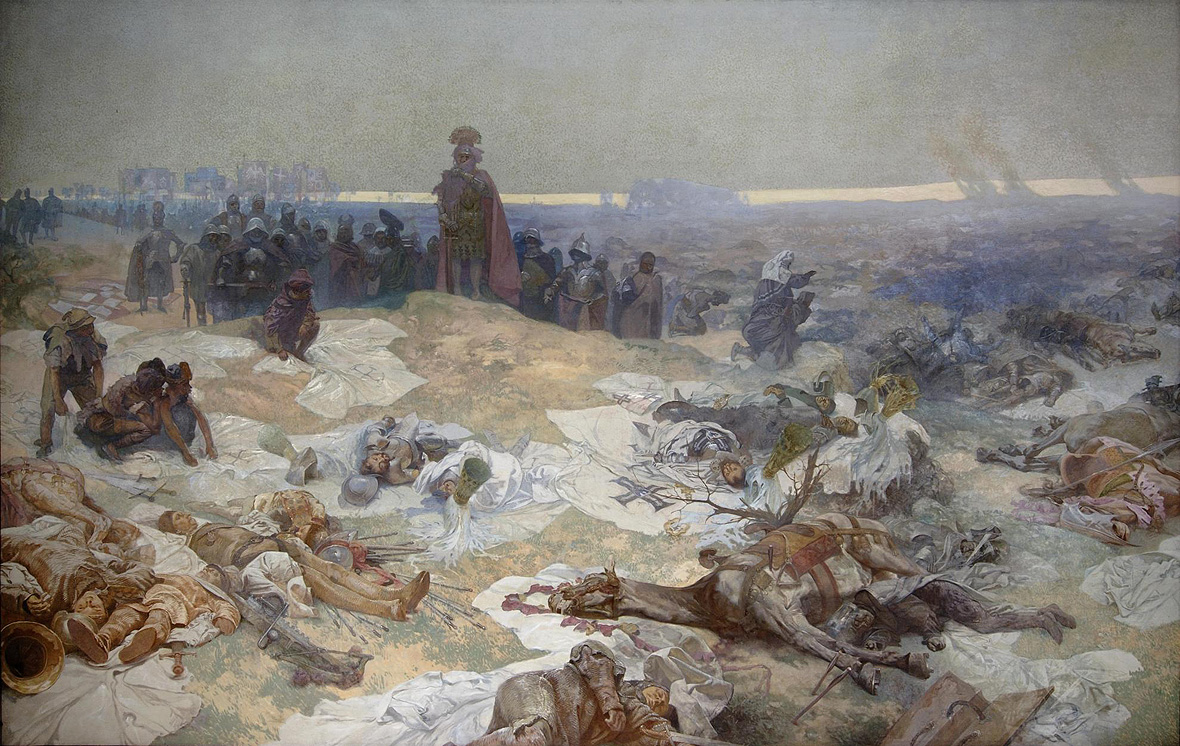 After the Battle of Grunwald
Mucha's choice of Polish theme for the Slav Epic drew him to the famous Battle of Grunwald (Tannenberg) on 15 July 1410.
In the battle the Polish-Lithuanian army, led by the Polish King Władysław Jagiełło and his cousin the Lithuanian Grand Duke Vytautas (Vitold), defeated the previously unvanquished Teutonic Knights. Although large numbers of Bohemian and Moravian mercenaries fought on both sides of the battle, in Mucha's rendering they are all on the side of the Polish and Lithuanian units and alongside Russian soldiers: the Battle of Grunwald was used as an example of 'the solidarity of the Northern Slavs'. The victory of the Slav allies over the German enemy is not portrayed as a triumph. On the contrary, there is a pacifist tone to the image and it expresses the victors' sorrow over the lives that have been wasted.
Mucha chose to depict the battlefield on the morning after a bloody battle. White cloaks with black crosses litter the field, and among the fallen is the Grand Master of the Teutonic Knights Ulrich von Jungingen. From a hillock Władysław Jagiełło looks down with a melancholy expression on the destruction of the enemy. To the left behind him, near the Grand Duke Vitold, there is a unit of Bohemian and Moravian fighters, led by Jan Sokol of Lamberk. Mucha has included Jan Žižka among them, who is believed to have taken part in the battle. To the right a Russian Orthodox bishop holding a mass (panychida) for the dead Smolenec fighters who had helped achieve victory.