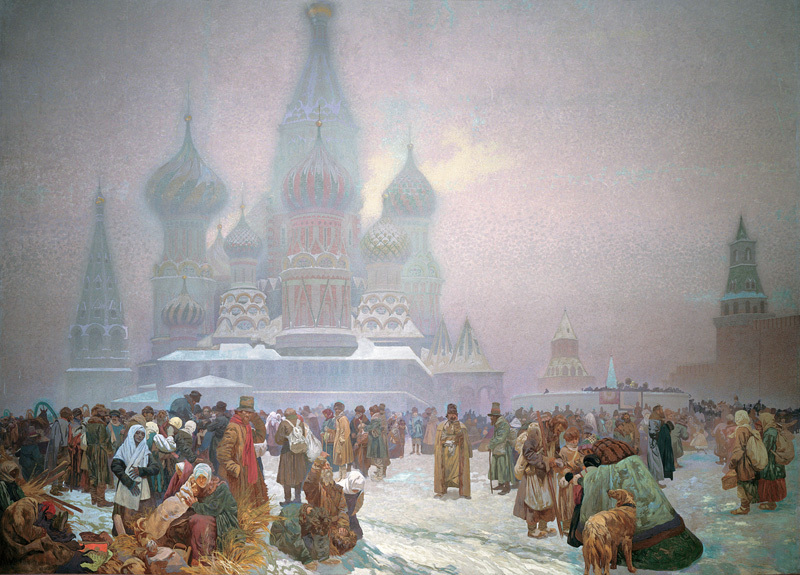 The Abolition of Serfdom in Russia
Mucha's approach to the theme of the abolition of serfdom in Russia was influenced by his personal experience from a study trip he took to Russia in 1913 as part of preparation to paint the Slav Epic.
He was so shocked by the backwardness and ignorance of simple people that he abandoned his original intention to paint the reform of serfdom as a historical event and instead chose to portray a reaction more of hesitation and uncertainty among the population when the Tsar issued the emancipation decree in 1861. He depicted the snowy square in front of the Kremlin. The country's official representatives, filing out of the stands in the background and carrying icons, fuse into imperceptible dark stains on the horizon, and attention is instead directed to individually distinguishable urban and rural figures, who are discussing and thinking, but do not yet fully understand their new freedom.
Mucha modelled the different types of people portrayed on examples he drew directly from Russia, where during his stay he took a number of remarkable documentary photographs. The ethereal rosy light of dawn expands over the narrow strip of genre figure painting, and through it, as though emerging from behind a snowy curtain, looms the monumental outlines of Saint Basil's Cathedral.