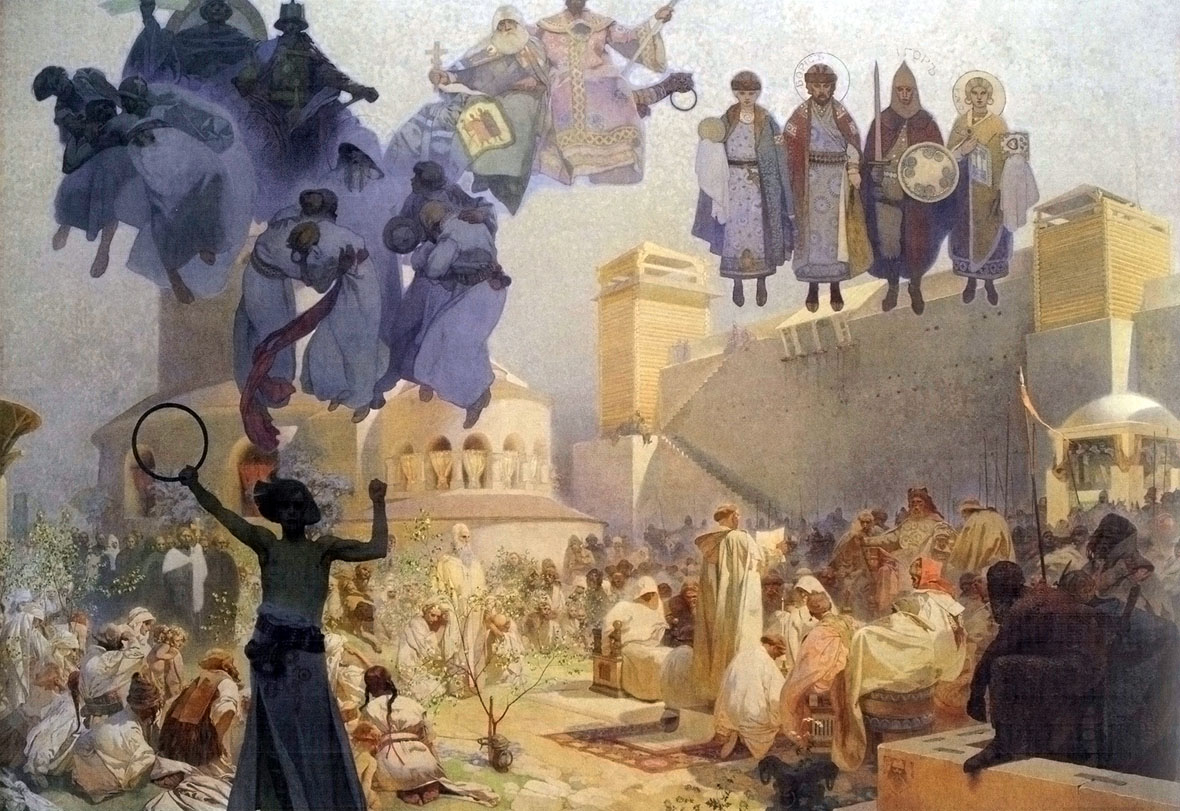 The Introduction of the Slavonic Liturgy
Mucha used the example of a real historical event to depict the significance of the Slavic liturgy even in an allegorical- symbolic composition.
He chose to highlight the role of Constantine (who as a monk went by the name of Cyril) and Methodius, two brothers from Thessaloniki, who translated the gospel into the Slavic tongue. Methodius appears in the earthly scene, which is situated in Velehrad around the year 880. Prince Svatopluk of Great Moravia is listening to a deacon, who is ceremoniously reading out the Papal Bull issued by Pope John VIII sanctioning the use of the Slavic liturgy and confirming Methodius as archbishop of Moravia. Methodius is standing to the side in the company of two kneeling novices. The crowd that has gathered as well as his followers are showing Methodius their respect. The German priests surrounding Svatopluk can barely conceal their hatred.
In the upper section of the canvas Mucha portrays the Pope dominating over the German emperor (accompanied by a group representing the forced Germanification of baptized Slavs), and the Byzantine emperor, the head of the Orthodox Church, protecting the Patriarch. Below them, Cyril, wearing a cope, takes command of the Slavs. In the upper right section, two married couples, Saint Boris of Bulgaria and his wife and the Russian Saints Olga and Igor, are presented as the future guardians of the legacy of Cyril and Methodius. The most important figure in the imaginary world is a young man holding a large ring up in the air that symbolizes 'strength in unity'.