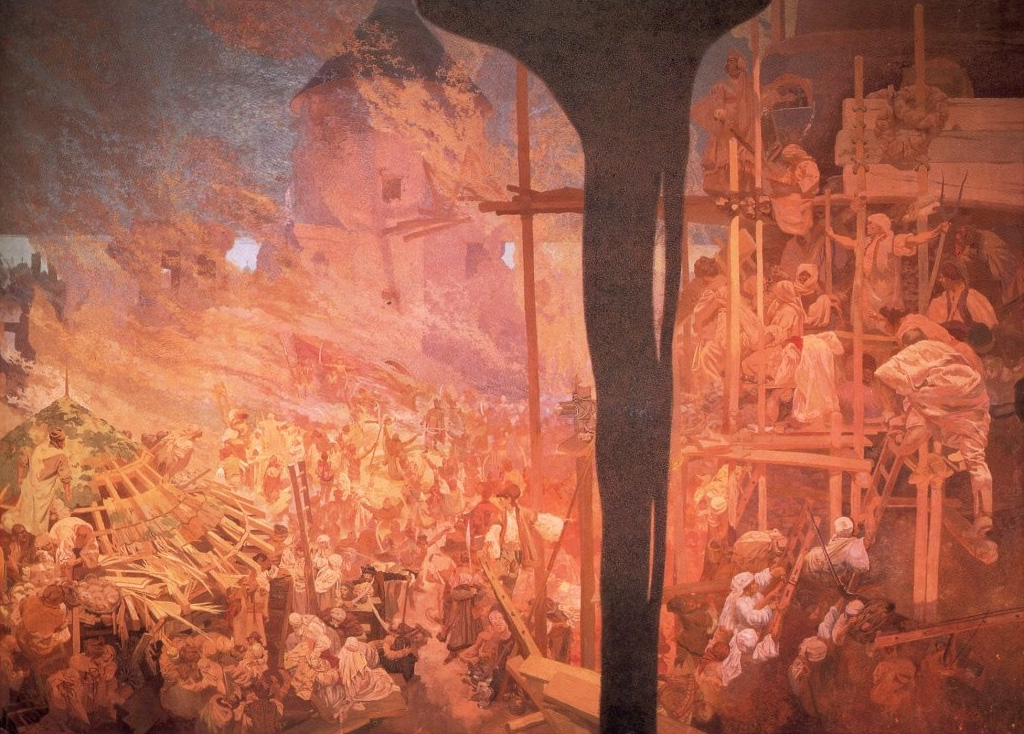 The Defence of Szigetvár by Niko-la Zrinski
The most dramatic painting in the Slav Epic is devoted to the heroism of the Croatian Ban (lord) Nikola Šubić Zrinski, the commander of the Hungarian fortress Szigetvár, whose inhabitants laid down their lives in 1566 resisting the Ottoman incursion into the Habsburg lands.
Mucha chose a psychologically climactic moment in the battle, portraying the scene inside the fortress just before the final onslaught when the defenders are being called on to sacrifice their lives. He portrayed the inhabitants swearing an oath to Nikola Zrinski, who is standing in the background of the scene. Women and children are also preparing to do battle, climbing up on the scaffolding around the high fortress tower used to store gunpowder. At the highest spot, Zrinski's second wife, Eva of Rožmberk, stands ready with a cresset. She is waiting for the right moment to hurl the cresset into the gunpowder supply.
Mucha used the figure of Eva to incorporate a Czech element into the scene, even though in reality Eva did not take part in defending the fortress. A dark, vertical formation runs vertically up the foreground of the composition: this is a column of black smoke, auguring the total destruction that will ensue when the gunpowder explodes, and symbolizing the noble fear in the victims' sacrifice.
The painting, completed in May 1914, was reproduced for the first time a year later, accompanied by commentary comparing the suffering of past battles to the bloodshed of the war in Europe at the time.