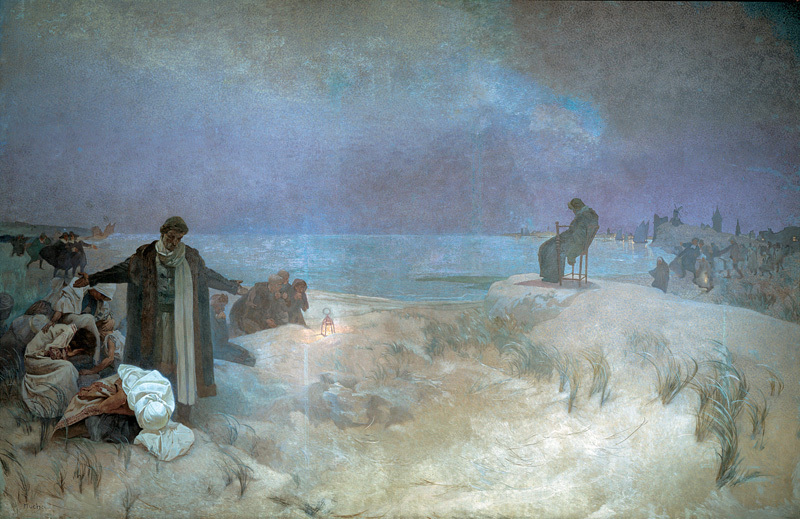 John Amos Comenius
Thematically, the painting of John Amos Comenius brings to a close the list of important figures in Czech history presented in the Slav Epic.
While Mucha chose to portray the other figures at the height of their creative powers, he depicted Comenius as a lonely, worn figure, sitting off in the distance, approaching death, looking out over the vast surface of the water. In Mucha's interpretation, the last bishop of the Unity of Brethren is in Naarden at the end of his life and has his chair carried out to the edge of the sea, and there he then dies one evening; in reality he died in Amsterdam and was buried in Naarden. The death of Comenius has been a frequent subject of painting, but Mucha rendered the scholar's death in an original way. Even though Comenius' face is concealed and his slumped body seems lifeless and shapeless, we are still drawn to him as the painting's compositional and conceptual centre. The contours of his figure touch the earth, the sea, and the sky. All the other figures depicted in the painting, though they are at a distance from him, relate to him either through gesture, tears, prayers, or their movement in the landscape.
This painting is the only one in the Slav Epic that Mucha signed. His admiration for this important European philosopher and teacher, who maintained a deep relationship to his homeland even when in exile, was strengthened by the awareness of the impact of Comenius' ideas on the Masonic movement. The Czech Masonic Temple, founded in Prague in 1919, was named after him, and Mucha was its prominent member. Masonic symbolism is represented in the painting by the illuminated lamp set in the sand dune.