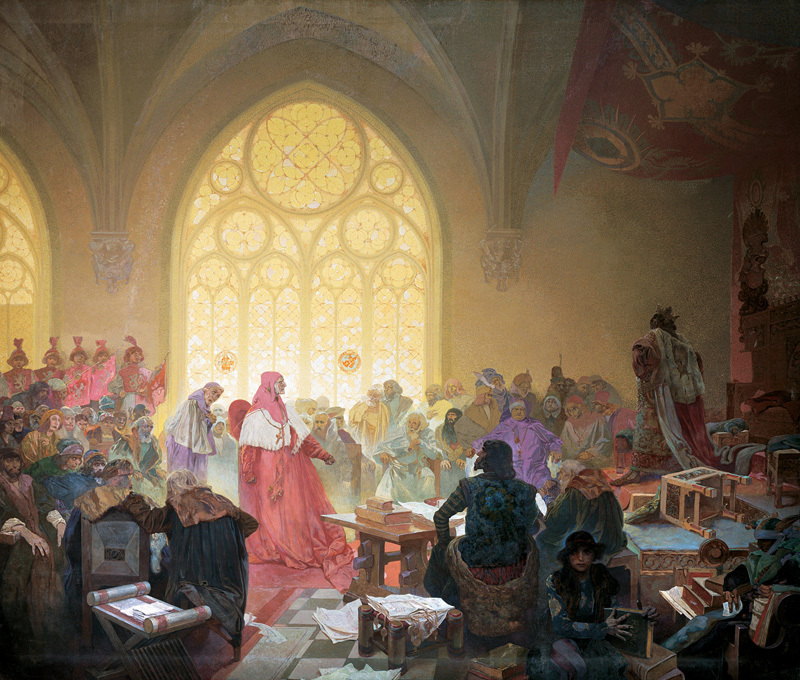 The Hussite King Jiří of Poděbrady
On Friday, 13 August 1462 there was a meeting at the Royal Court in Prague's Old Town chaired by King Jiří of Poděbrady, in which Utraquists and Catholics, including the Bishops of Vratislav and Olomouc, took part.
Appearing before the King is Fantinus de Valle, a doctor of laws and originally a member of the delegation that was dispatched to Rome by Jiří of Poděbrady himself to obtain confirmation of the Compact of Basel from Pope Pius II and especially of the right to receive communion in both kinds. Fantinus returned in the role of a Papal legate bearing the Pope's refusal. He appealed to Jiří to submit to Rome, which Jiří indignantly refused.
Mucha's attempt to present Jiří as a counterweight to the Roman Church led him to depict Fantinus with the characteristic profile of Pope Pius II himself. An overturned chair reminds us that the legate was not permitted to sit in a place of honour in retaliation for the disrespectful treatment of the Bohemian delegation in Rome. Standing next to Fantinus is Jan of Rabštejn, Provost of Vyšehrad, in the role of interpreter, as Jiří did not understand Latin. The result of this face-off is announced to viewers by a boy in the foreground who is meaningfully holding a closed book with the word Roma written on the cover.
The scene takes place in an architectural space that no longer existed at the time the painting was made. Mucha chose to make the central motif of this imagined space its Gothic window, illuminated by the sun, with tracery forming a complex hermetic composition made up of connected circles.